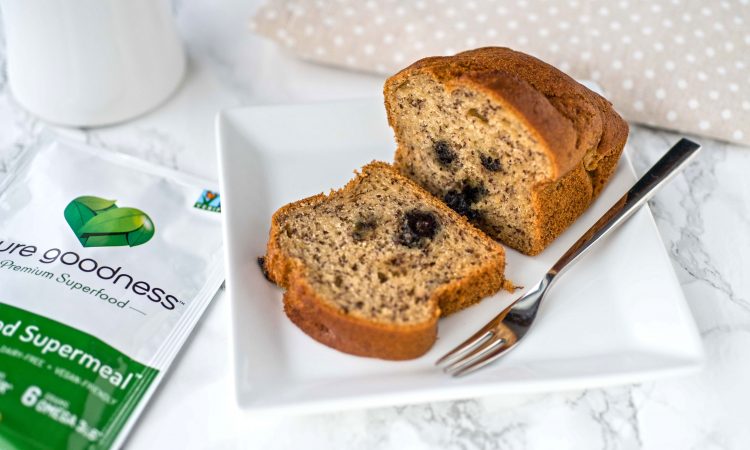 Banana Bread with Whole Food Supermeal
Try this Banana Bread recipe, trust us you'll find it very Apeeling!
Ingredients:
A.
2 cups flour
1 tsp baking powder
1 tsp baking soda
1/2 tsp salt
3 tbsp (40g) Pure Goodness Whole Food Supermeal (Vanilla)
B.
3 ripe bananas, mashed
1/2 cup sugar
C.
1/3 cup almond milk
1/3 cup vegetable oil
Instructions:
1. Pre-heat oven to 350 degrees. Lightly grease a loaf baking pan.
2. Combine and mix the ingredients of A.
3. Mix the ingredients of B.
4. Add the ingredients of C to B mixture
5. Stir the A mixture into the B and C mixtures gradually, mix well.
6. Pour the mixtures into the baking pan.
7. Bake for 40-45 minutes.
Notes:Nutrition Information
Serving size: 1
Amount Per Serving
Calories 240
Total Fat 4.3 g
Polyunsaturated Fats ( Omega 3+6) 1.7 g
Monounsaturated Fat ( Omega 9) 1.4
Total Carbohydrates 42 g
Fiber 4.1 g
Sugars 13 g
Protein 8.8 g
* Nutrition information is estimated based on the ingredients and cooking instructions as described in each recipe and is intended to be used for informational purposes only. Please note that nutrition details may vary based on methods of preparation, origin, and freshness of ingredients used