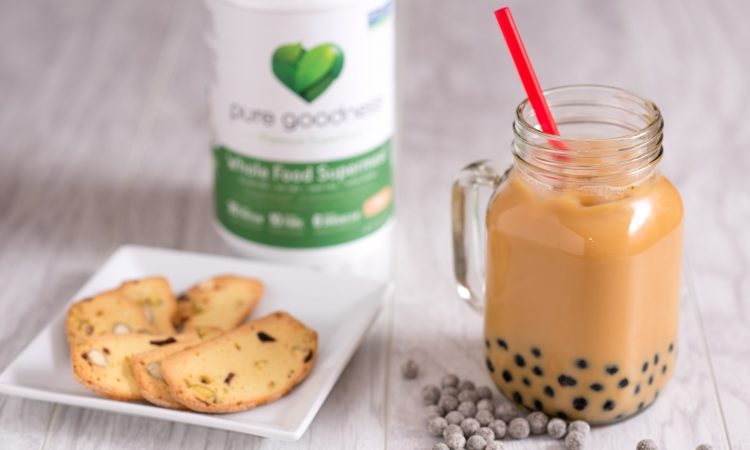 Bubble Tea with Whole Food Supermeal
A Bubble Tea made with our Whole Food Supermeal is definitely ex-STRAW-ordinary!
Ingredients:
1 cup dried black instant tapioca pearls
3 tbsp maple syrup
5 orange pekoe tea bags or 5 tsp loose leaf black tea
2 tbsp (40g) Pure Goodness Whole Food Supermeal (Vanilla)
2 cups almond milk
2 tbsp sugar (optional)
1 cup ice cubes (optional)

Instructions:
1. Prepare the tea: Bring 4 cups of water to a boil, remove from heat and add the tea bags or loose leaf black flavor to the hot water, use more tea bag or loose leaf for a stronger flavor. Remove the tea bag or loose leaf after 15 minutes, add the sugar then chill the tea.
2. Prepare the tapioca pearls: For the instant tapioca pearls, boil 10 cups of water for every 1 cup of tapioca pearls. Bring the water to a boil, add the tapioca pearls slowly and stir lightly. Wait until the tapioca pearls float on the water, cover the pot and boil another 2 minutes with medium heat, then turn off the heat and simmer for another 2 minutes. Put the cooked tapioca pearls in the cold water for 20 seconds, then drain the tapioca pearls and mix with the maple syrup.
3. Make the bubble tea: Put the tapioca pearls in the bottom of 4 long glasses, then pour the chilled tea into the glasses, add the almond milk, Pure Goodness Whole Food Supermeal (Vanilla) and ice cubes, stir well.
4. Serve immediately. Enjoy the bubble tea.

Notes
1.This recipe makes 4 drinks.
2.You can find dried black tapioca pearls in Asian supermarkets, there are regular and instant types. Read the instruction on the package to choose your preference.
Nutrition Information
Serving size: 1 cup
Amount Per Serving
Calories 246
Total Fat 2.95 g
Polyunsaturated Fats ( Omega 3+6) 1.1 g
Monounsaturated Fat ( Omega 9) 1.4 g
Total Carbohydrates 50 g
Fiber 1.36 g
Sugars 12.8 g
Protein 4.6 g
* Nutrition information is estimated based on the ingredients and cooking instructions as described in each recipe and is intended to be used for informational purposes only. Please note that nutrition details may vary based on methods of preparation, origin, and freshness of ingredients used