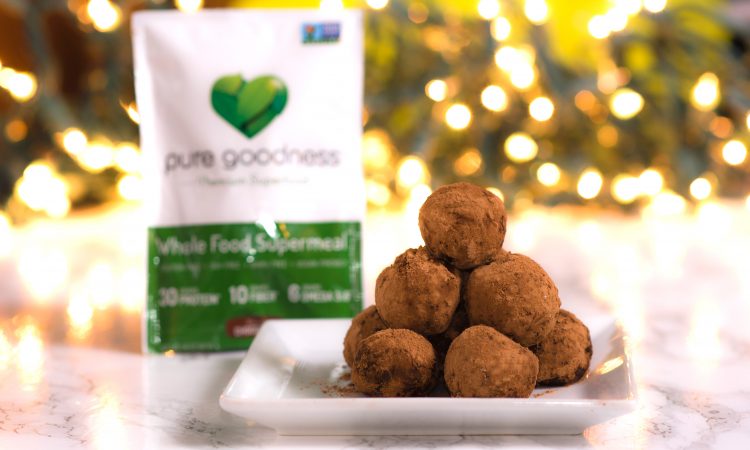 Chocolate Date Truffles
These Chocolate Date Truffles would make a wonderful addition to your holiday dessert table!
Ingredients:
3 tbsp (40g) Pure Goodness Whole Food Supermeal (Chocolate)
1 cup walnuts (or other nuts)
1 1/2 cup of pitted dates
1/8 tsp salt
1 tbsp coconut oil
Coatings:
Cocoa powder
Instructions:
1. Soften dates by soaking them for 10 minutes in warm water. Drain dates and discard water.
2. Put the Whole Food Supermeal and walnuts in a high speed food processor and pulse it until they are broken down and mixed.
3. Add the dates, salt and coconut oil into the nuts mixture, and process slowly until it forms a dough.
4. Take out the dough and shape it into small balls.
5. Roll to coat each truffle ball in cocoa powder.
Notes:
1.This recipe makes 12 truffles.
2.If you want to coat the truffles with chocolate, put the truffles balls of step 4 into the freezer at least 1 hour or up to overnight, then dip the truffles into melting chocolate.

* Nutrition information is estimated based on the ingredients and cooking instructions as described in each recipe and is intended to be used for informational purposes only. Please note that nutrition details may vary based on methods of preparation, origin, and freshness of ingredients used