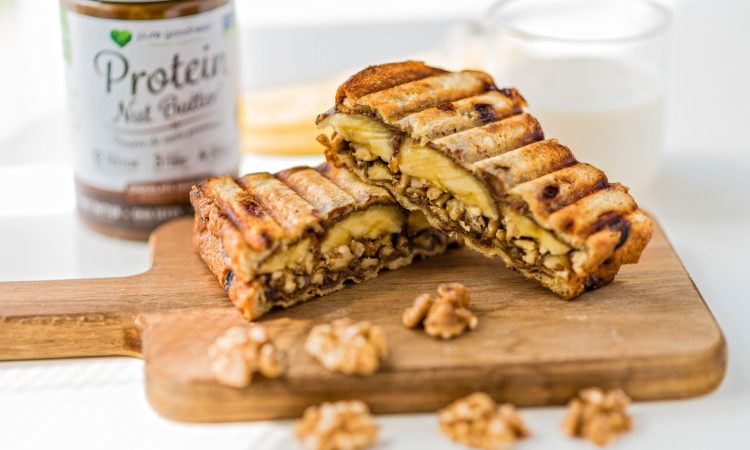 Chocolate-Hazelnut-Banana Panini
No adult or child can resist this creamy and Chocolatey Hazelnut-Banana Panini- the perfect recipe for breakfast, lunch, snack or dessert! Made with our High Protein Chocolate Hazelnut Nut Butter with 12 g of protein, 3 g of fiber and 4 g of omegas per serving!
Ingredients:
1 ripe banana, sliced
2 tbsp of Pure Goodness Chocolate Hazelnut Butter
2 slices of raisin bread
1/2 cup of walnuts, crushed
1 tbsp of Vegan butter (or olive oil)
Instructions:
1. Spread the 2 slices of raisin bread with Pure Goodness Chocolate Hazelnut Butter.
2. Put the banana slices on one bread, and walnuts on the other bread. Combine the two slices of raisin bread to make a sandwich.
3. Spread the Vegan butter on each side of the sandwich.
4. Put the sandwich on the grill pan, pressing with a panini press. Grill the sandwich until golden brown.
5. Flip over the sandwich, pressing with the panini press and grill the other side to golden brown.
6. The panini is ready. Serve warm.
Note:
You can use any heavy pan, lid, or sandwich maker to press the sandwich.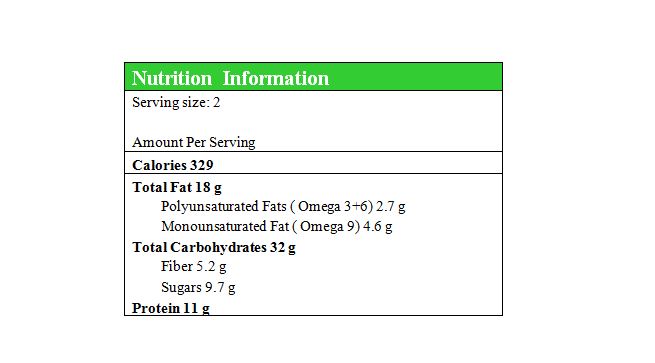 * Nutrition information is estimated based on the ingredients and cooking instructions as described in each recipe and is intended to be used for informational purposes only. Please note that nutrition details may vary based on methods of preparation, origin and freshness of ingredients used.