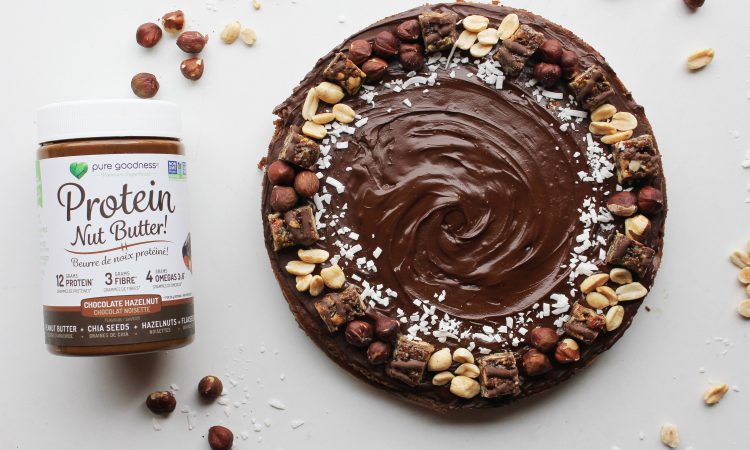 Chocolate Hazelnut Tarte
All you need is love..but chocolate does the job pretty well! Bake this beautiful Tarte for any occasion using our Chocolate Hazelnut #ProteinNutButter and add a boost to every bite.
Recipe:

Time: Prep – 10 minutes | Bake Time – 25-35 minutes | Total – 35-45 minutes
Ingredients:
Crust
– 8 tbsp Oat Flour (Easily created from Oats by blending in a food processor until flour consistency
– 8 tbsp Almond Meal
– 1/2 cup Hazelnuts
– 1 Flax Egg (1 tbsp ground flax and 3 tbsp water, stirred and left for 5-10 minutes)
– 5 Dates (Pitted and soaked in warm water for 20 minutes)
– 2 tbsp Shredded Coconut
– 2 1/2 tbsp Brown Sugar (Can use coconut sugar, or sugar of choice)
Filing
– 1/2 cup Raw Cashews (Soaked in water over night, then rinsed)
– 1 12oz package of Soft Silken Tofu
– 1/3 cup Maple Syrup
– 3 tbsp Fresh Lemon Juice
– 3 tbsp Cocoa Powder
– 1 tbsp Corn Starch
– 2 tbsp Almond Meal
– 4 tbsp Pure Goodness Protein Nut Butter in Chocolate Hazelnut
Toppings (Optional – Be Creative)
– Approx. 1/3 – 1/2 cup of Chocolate chips melted to create a spreadable layer
– Pure Goodness Dark Chocolate Clusters
– Hazelnuts
– Roasted and Salted Peanuts
– Shredded Coconut
Instructions:
1. Start off by making the crust; Blend all ingredients together in a food processor.
2. Press crust dough evenly into a spring form pan for best results, a pie pan will also work.
3. Bake at 350 degrees F in a regular oven for about 5 minutes.
4. While crust is baking place all filling ingredients in the food processor (Rinse first).
5. Pour filling batter into the spring form pan and spread out evenly with a spatula or spoon.
6. Bake in the oven at 350 degrees F for 20-30 minutes. Check every 10 minutes by placing a toothpick in the tare, if any of the batter comes out it is not finished.
7. Once finished let sit on the counter for an hour, then in the refrigerator for at least another hour to cool.
8. Decorate and Enjoy
How we decorated:
1. Cut up Pure Goodness Dark Chocolate Clusters
2. Melt Dark chocolate in the microwave in small intervals stirring each time until completely melted
3. Spread over the cooled tarte using a spoon or spreading knife.
4. Place small Cluster chunks around the edges, adding peanuts and hazelnuts in between.
5. Add some shredded coconut.
Special Notes:
– Chopped hazelnuts work better for the crust. We used whole hazelnuts which gave more texture.
– The ingredients for the crust make a very thin layer, if you would like it to be thicker simply double the ingredients.
– If using a smaller spring form pan or pie pan the crust and filling will end up being thicker, baking time will have to be adjusted so keep an eye on the tarte.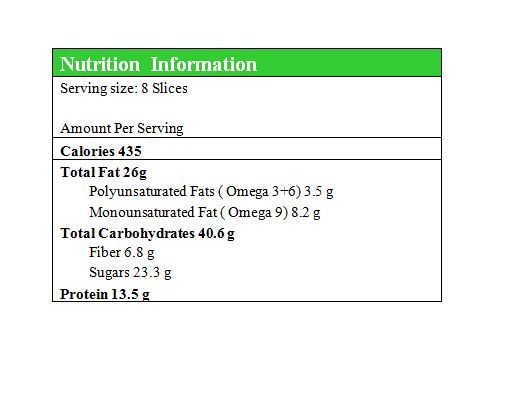 * Nutrition information is estimated based on the ingredients and cooking instructions as described in each recipe and is intended to be used for informational purposes only. Please note that nutrition details may vary based on methods of preparation, origin and freshness of ingredients used.