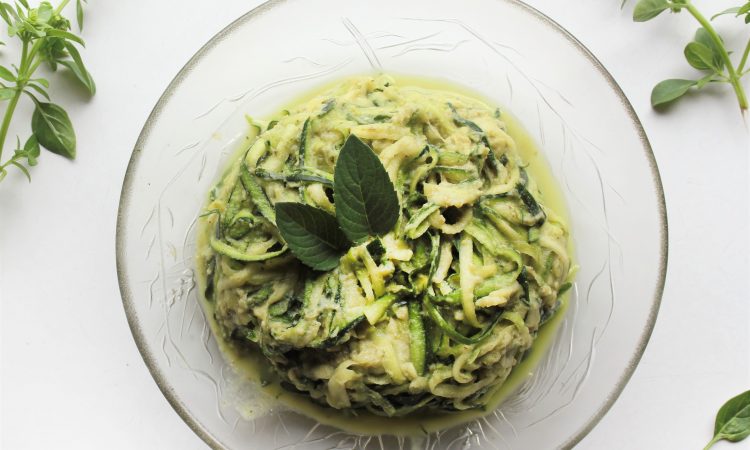 Creamy Alfredo Pesto Sauce Served With Zoodles
What does the vegetable wear to the beach? A Zucchini! Give this low calorie and protein packed Alfredo Pesto sauce with Zoodles a try and make your meal a great one- made with our Pumpkin Seed Protein to help you power through the day!
Time: Prep 10 minutes / Cook 15 minutes (Total 25 minutes)
Serving Size: Sauce – Approx 4 cups
Sauce Ingredients
3.5 cups of cauliflower
1/2 white onion
4 cloves of garlic
1 tsp olive oil
1 scoop of Unflavoured Pure Goodness Pumpkin Seed Protein
3/4 cup of fresh basil
2 tbsp dried basil
1 tbsp nutritional yeast
1 tsp sea salt
1 1/2 cup water
Juice from 1/2 a lemon
Noodles Ingredients
2 zucchini (spiralized into noodles)
Instructions
1. In a medium pot add oil, and chopped onion, stirring until translucent (4 minutes).
2. Crush garlic and add to pot, leave for 1 minute.
3. Add 1 cup of water and chopped cauliflower, let steam for 5 minutes.
4. Add ingredients to a high powered blender and blend until creamy. (add 1/2 cup of water if too thick for what is desired)
5. Add salt, nutritional yeast, dried basil and 1 scoop of Unflavoured Pure Goodness Pumpkin Seed Protein; blend.
6. Add lemon juice and chopped fresh basil, blend until constant creamy texture.
7. Poor over zucchini noodles and mix, or let cool then refrigerate.

Notes
1. Zucchini noodles can be made using a spiralizer or the largest setting on a box grater.
2. Noodles can be raw or cooked.
3. Sauce goes well with other vegetable noodles, or the traditional pastas.
4. More salt can be added if desired for taste.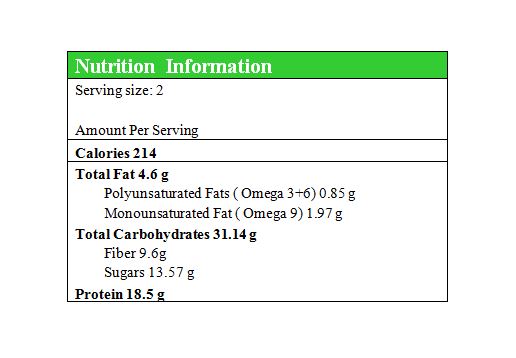 * Nutrition information is estimated based on the ingredients and cooking instructions as described in each recipe and is intended to be used for informational purposes only. Please note that nutrition details may vary based on methods of preparation, origin and freshness of ingredients used.