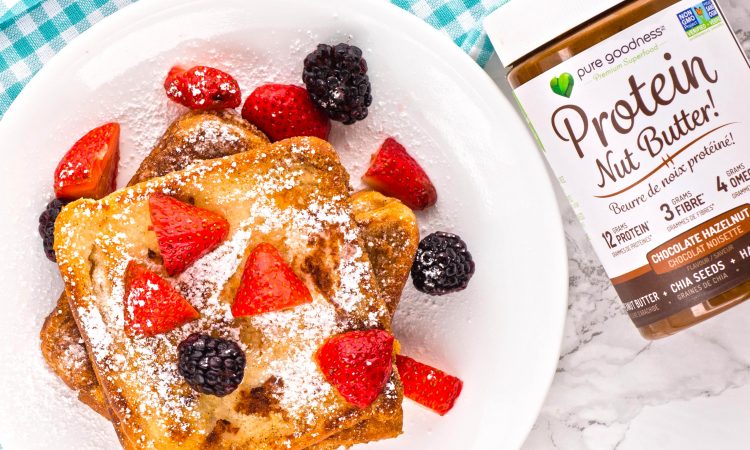 French Toast
Let's toast to the holidays with these scrumptious French Toast smothered with our Chocolate Hazelnut Nut Butter- packed with protein, fiber and omegas!
Ingredients:
1/2 cup almond milk
2 tbsp Chickpea flour
1 tbsp maple syrup
1 tsp vanilla extract
1 tsp cinnamon powder
1 tsp soy sauce
3 tbsp Pure Goodness Chocolate Hazelnut Protein Nut Butter
4 thick slices day-old, firmer bread
Coconut oil

Toppings
Assorted fruits, sugar icing, maple syrup

Instructions
1. Combine the almond milk, Chickpea flour, maple syrup, vanilla extract, cinnamon powder and soy sauce to make a batter.
2. Spread the Pure Goodness Chocolate Hazelnut Protein Nut Butter on 2 slices of bread, then top on each with the other 2 slices.
3. Gently heat coconut oil in a pan.
4. Dip the bread into the batter and coat well on each side. Cook on both sides with medium heat until they are golden brown.
5. Serve with fruit, maple syrup and sprinkle with the sugar icing. Enjoy!


* Nutrition information is estimated based on the ingredients and cooking instructions as described in each recipe and is intended to be used for informational purposes only. Please note that nutrition details may vary based on methods of preparation, origin, and freshness of ingredients used.