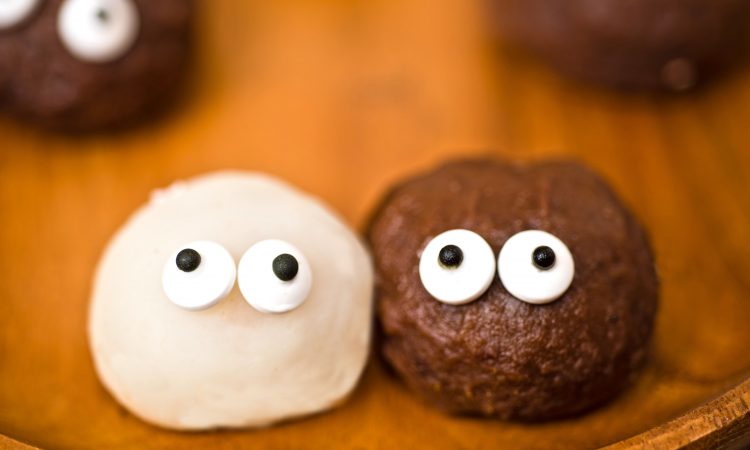 Halloween Mochi Monster Balls
Ingredients:
White Mochi with Peanut Butter Filling
1 cup rice flour
2 tbsp sugar
2 tsp vegetable oil
1 cup coconut milk (or water)
1 tbsp cornstarch, cooked
Filling
A. Peanut butter
3 tbsp Pure Goodness Powdered Peanut Butter
2 tbsp walnuts
Chocolate Mochi with Chocolate Hazelnut Filling
1 cup rice flour
2 tbsp sugar
2 tsp vegetable oil
1 1/4 cup coconut milk (or water)
2 tbsp coco powder
1 tbsp cornstarch, cooked
Filling
3 tbsp Pure Goodness Chocolate Hazelnut Protein Nut Butter
2 tbsp walnuts
Decoration
Candy eyes
Instructions
1. Mix the peanut butter and walnuts in one bowl; Protein Nut Butter and walnuts in another bowl. Put them in the freezer for at least 3 hours.
2. Mix the rice flour and sugar, stir in vegetable oil and coconut milk.
3. Put the rice flour mixture in a greased container, cover the container with lid or plastic wrap. Cook the rice flour mixture by microwave for 2 minutes with medium-high power, then take out and stir the mixture, and heat for another 2 minutes.
4. Take out the frozen peanut butter mixture from the freezer, cut it into 8 equal balls.
5. Dust work surface with cooked cornstarch. Take out the Mochi from microwave, put it on the work surface and roll, divide it into 8 pieces and roll to a ball.
6. Flatten the Mochi ball and place 1 frozen peanut butter ball in the centre. Pinch the Mochi over the peanut butter until it is completely covered. Sprinkle with additional cornstarch.
7. Put the Candy eyes on the Mochi ball.
8. Repeat the same steps for the Chocolate Mochi, add the coco powder in the step 1. Use the Protein Nut Butter as fillings. Cooked it in microwave with additional 1minute.
Notes
1. This recipe makes 16 Mochi balls (8 white Mochi and 8 Chocolate Mochi)
2. Cooked corn starch: Cook the corn starch in the microwave with high power for 1 mi-nute.
3. Eat immediately or keep the Mochi balls in the fridge, wrap each individually with plastic wrap. Slightly heat with microwave when the Mochi balls turn harder in the fridge.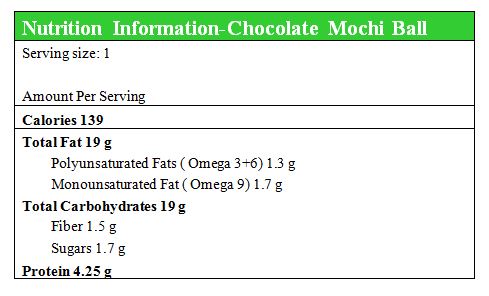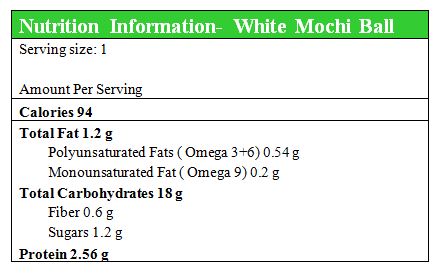 * Nutrition information is estimated based on the ingredients and cooking instructions as described in each recipe and is intended to be used for informational purposes only. Please note that nutrition details may vary based on methods of preparation, origin and freshness of ingredients used.