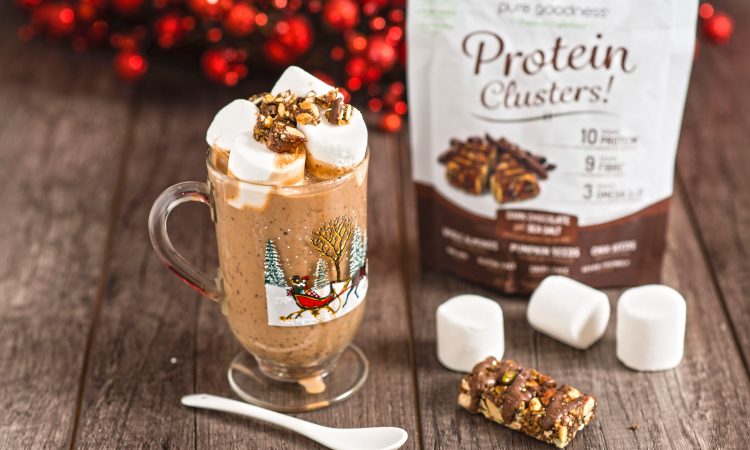 Hot Chocolate with Protein Clusters
Ingredients:
1 cup coconut milk or almond milk
1 tbsp cocoa powder
1 tbsp semi-sweet chocolate chips
1 tsp brown sugar
1/8 tsp salt
1/2 tsp vanilla extract

Toppings:
3-4 Marshmallows
1 bar of Pure Goodness Dark Chocolate Sea Salt Protein Clusters

Instructions:
1. Heat the milk in a small saucepan over medium heat.
2. Add the cocoa powder, chocolate chips, brown sugar, salt, vanilla extract into the hot milk, then stir until dissolved.
3. Top with marshmallows and Protein Clusters. Serve it hot, enjoy!
Notes:
1.This recipe makes 1 serving.
2.Alternately, the milk can be heated by microwave with high power for 1-1 1/2 minutes.

* Nutrition information is estimated based on the ingredients and cooking instructions as described in each recipe and is intended to be used for informational purposes only. Please note that nutrition details may vary based on methods of preparation, origin, and freshness of ingredients used