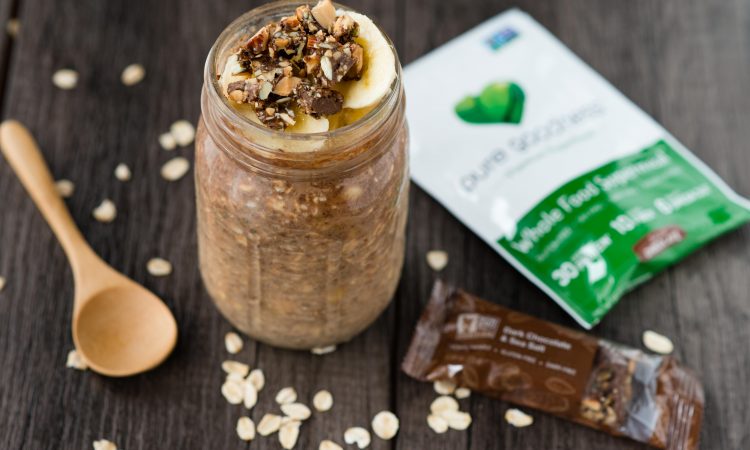 Overnight Chocolate Oats
Our Overnight Chocolate Oats Supermeal is the perfect breakfast to start this week off fresh, healthy and full of energy!
Ingredients:
¾ cup rolled oats
1 tbsp Pure Goodness Whole Food Supermeal (chocolate)
1 tbsp cocoa powder
1½ cup almond milk
1 tbsp chia seed
1 ripe banana
1 tbsp maple syrup
1/8 tsp salt

Toppings:
½ bar of Pure Goodness Dark Chocolate Sea Salt Protein Clusters
½ banana

Instructions
1. Put all the ingredients except the Supermeal in a glass jar. Smash the banana and mix it well.
2. Cover the jar and store in the refrigerator overnight.
3. In the next morning add the Supermeal, and top it with the Protein Clusters and banana or any other favourite toppings.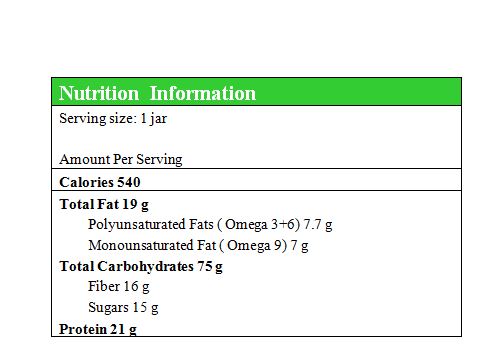 * Nutrition information is estimated based on the ingredients and cooking instructions as described in each recipe and is intended to be used for informational purposes only. Please note that nutrition details may vary based on methods of preparation, origin and freshness of ingredients used.