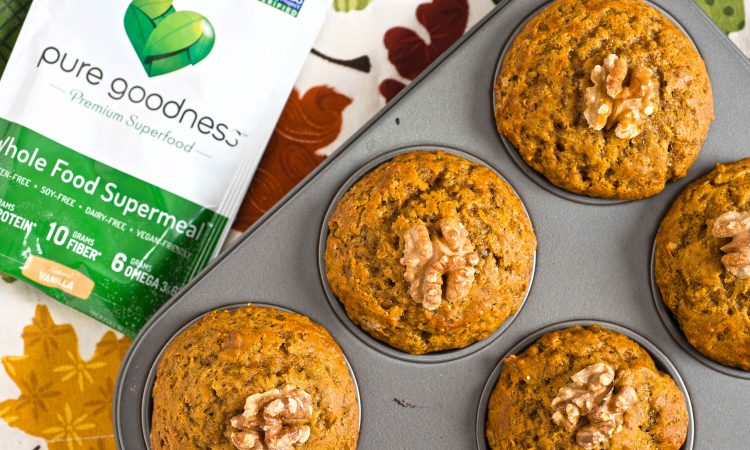 Pumpkin Walnut Muffins
Bake these delicious and nutritious muffins for your family this Thanksgiving using our Whole Food Supermeal and provide TEN meals to children in need at the same time!
Ingredients:
1 cup flour
3/4 cup brown sugar
3 tbsp (40g) Pure Goodness Whole Food Supermeal (Vanilla)
1/2 tbsp baking powder
1/4 tsp salt
1 tsp cinnamon powder
1/2 cup puree pumpkin
1 tsp vanilla extract
1/4 cup almond milk
1/4 cup vegetable oil
1/4 cup walnut, chopped
Instructions
1. Line a muffin pan with 6 baking cups.
2. Preheat the oven to 375ºF.
3. Whisk together the flour, brown sugar, baking powder, salt and cinnamon powder, and Pure Goodness Whole Food Supermeal (Vanilla). Stir in the purée pumpkin, vanilla extract, almond milk, vegetable oil and chopped walnut.
4. Spoon the mixture into the prepared muffin cups and fill each 2/3 of the way full. Top with a walnut on each muffin.
5. Bake for 20-30 minutes or until they are golden. Insert a toothpick into the muffin, and it should be ready when the toothpick comes out clean.
6. Let the pan cool completely before removing the muffins from the pans.
Notes
This recipe makes 6 muffins.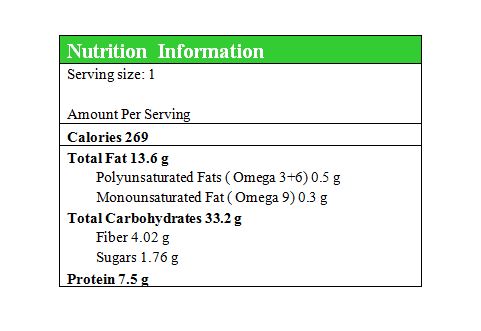 * Nutrition information is estimated based on the ingredients and cooking instructions as described in each recipe and is intended to be used for informational purposes only. Please note that nutrition details may vary based on methods of preparation, origin, and freshness of ingredients used.