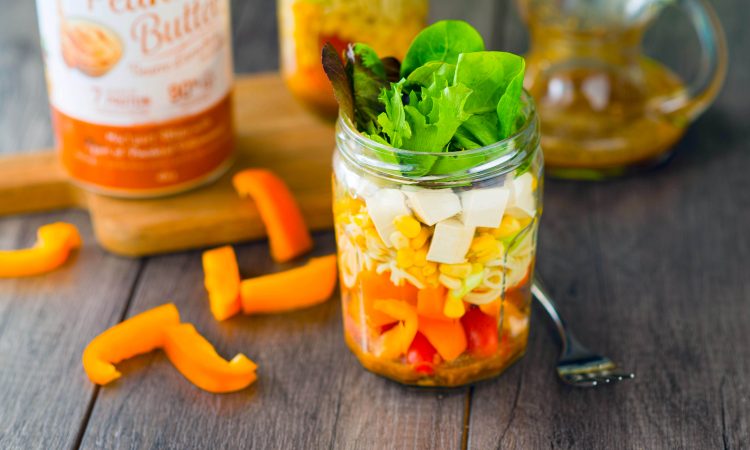 Ramen Salad Jar
This beautiful Ramen Salad with a tangy dressing made using our Powdered Peanut Butter is packed with protein and is going to make you love your veggies!
Ingredients:
1/2 cup orange pepper, sliced
1/2 cup cherry tomato
1/2 cup corn kernel
3/4 cup Ramen, cooked and drained
1 tbsp green onion, chopped
3/4 cup seasoned dry bean curd, diced
1 cup spring mix greens
2 tbsp nuts

Salad dressing:
2 tbsp Pure Goodness Powdered Peanut Butter
1/2 tbsp maple syrup
1 1/2 tbsp soy sauce
1 tbsp rice vinegar
1/2 tsp Sriracha sauce (or other chili sauce)
1/2 tbsp olive oil
1 tbsp sesame oil

Instructions:
1. Mix the Pure Goodness Powdered Peanut Butter, maple syrup, soy sauce, rice vine-gar, Sriracha sauce, olive oil and sesame oil in a bowl.
2. Put 3 tbsp of salad dressings in a Mason Jar.
3. Assemble the salad in the following order: orange pepper, cherry tomato, Ramen, green onion, bean curd, corn, greens and nuts.
4. Serve, or cover and put in the fridge.
Note:
1. This recipe makes 2 jars of salad.
2. The salad jar can be stored in the fridge up to 3 days.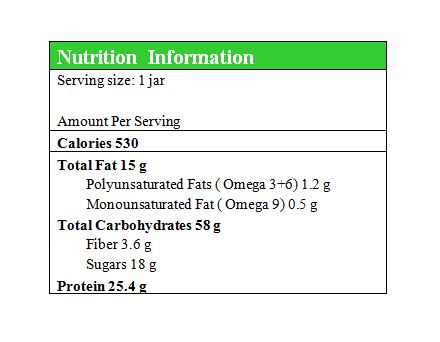 * Nutrition information is estimated based on the ingredients and cooking instructions as described in each recipe and is intended to be used for informational purposes only. Please note that nutrition details may vary based on methods of preparation, origin and freshness of ingredients used.