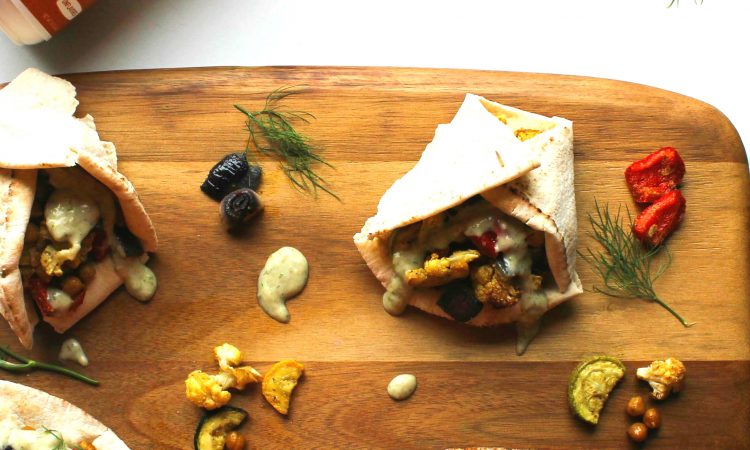 Roasted Vege Pitas with Tzatziki
If you're craving something quick and healthy to make for dinner tonight, give these loaded Vege Pitas a try! Packed with Protein, roasted veges and an incredible sauce to compliment them!
Serving Size: 4 people
Time: Prep – 5 minutes / Cook Time – 30 minutes / Set up – 5 minutes
Ingredients:
3 cups of zucchini (regular, yellow and grey)
2 cups of cauliflower
1/2 can of chick peas
1/2 red pepper
1/4 red onion
3 tbsp Olive Oil
2 tbsp Curry powder
1 tbsp Garlic powder
1 tbsp Garlic & Herb spice
4 pitas
Tzatziki Sauce: 
1/2 cup grated cucumber
2 cloves of grated garlic
juice from 1 lemon
2 tsp of dill (preferably fresh)
1/2 cup of coconut greek yogurt
1/4 scoop of unflavoured Pumpkin Seed Pure Goodness Protein
Instructions:
Cut up vegetables
Drain and rinse the chick peas, add to the vegetables
Toss chick peas and vegetables in olive oil, and herbs
Roast in the oven at 350 degrees for 30 minutes, tossing after 20 minutes
Make Tzatziki by whisking all ingredients together
Arrange roasted veg on top or inside of the pita, and drizzle tzatziki on top
Enjoy!
Notes: 
Can drizzle Tzatziki on veg and pitta, or toss veg in the Tzatziki
If making a larger batch of Tzatziki can use more protein or yogurt.
Other vegan yogurt could be used instead of coconut.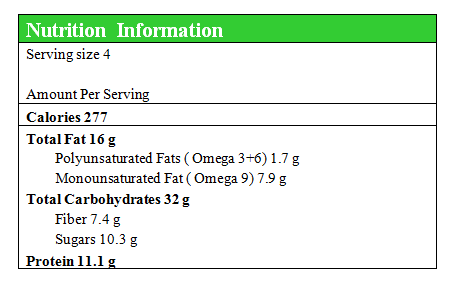 * Nutrition information is estimated based on the ingredients and cooking instructions as described in each recipe and is intended to be used for informational purposes only. Please note that nutrition details may vary based on methods of preparation, origin and freshness of ingredients used.