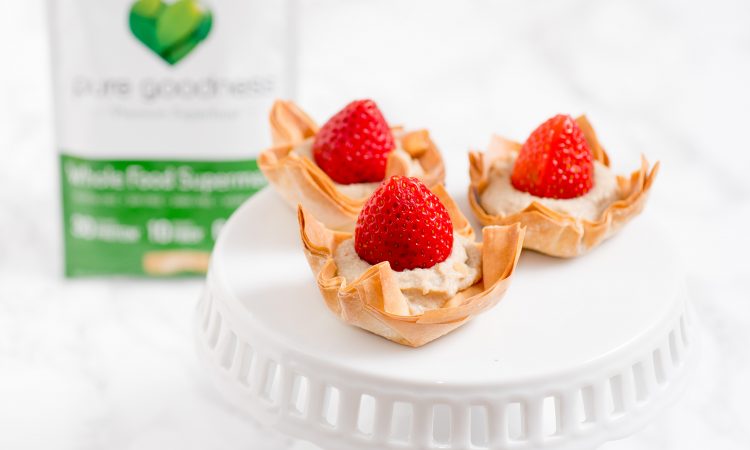 Strawberry Custard Tart
Who says dessert can't be healthy? These adorable Strawberry Custard Tarts are made using our Whole Food Supermeal- giving you the perfect combination of nutritious and delicious!
Ingredients:
2 cup raw cashews
1 cup coconut milk
¼ cup maple syrup
2 tbsp Pure Goodness Whole Food Supermeal (Vanilla)
5-7 phyllo pastry sheets
20 strawberries
Instructions
1. Blend the raw cashews, coconut milk, maple syrup and Pure Goodness Whole Food Supermeal (Vanilla) in a high speed blender. Put it in fridge for at least 4 hours or overnight.
2. Preheat oven to 375F
3. Lightly coat a muffin pan with cooking spray.
4. Place one sheet of phyllo on wax paper and lightly coat with cooking spray. Lay another sheet over the first one and lightly coat with cooking spray again. Repeat this process to form a crust that is 5-7 sheets thick.
5. Cut the crust into sever 3" x 3" small squares, and put it on the muffin pan.
6. Bake empty shells about 5-7 minutes or until the phyllo is golden brown. Cool 5 minutes.
7. Fill the shells with the cashew custard, and top with strawberries.
Notes:
This recipe makes 16 custard tarts.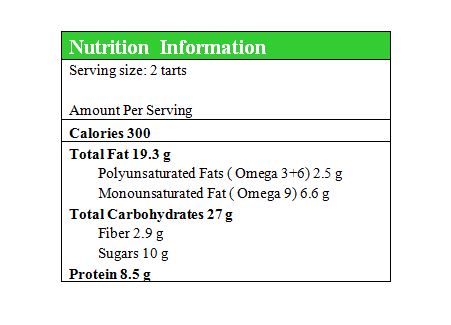 * Nutrition information is estimated based on the ingredients and cooking instructions as described in each recipe and is intended to be used for informational purposes only. Please note that nutrition details may vary based on methods of preparation, origin and freshness of ingredients used.