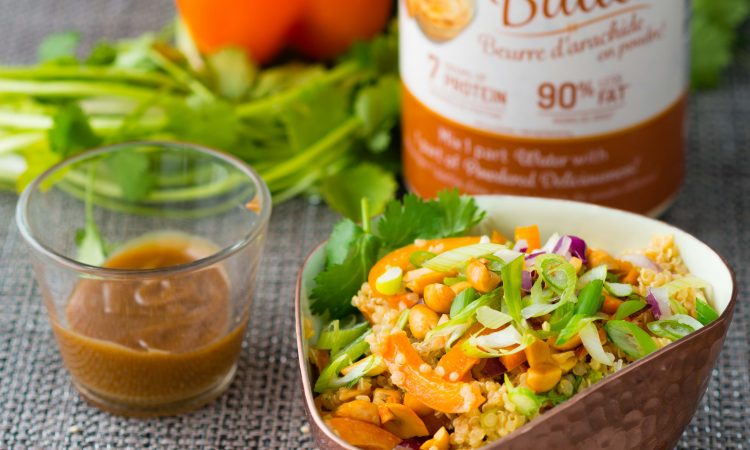 Thai Quinoa Salad
Ingredients:
1 cup water
1/2 cup uncooked quinoa
1 orange bell pepper, sliced
1/2 cup chopped cilantro
1/4 red onion, chopped
1 green onion, chopped
1/4 cup  roasted peanuts, roughly chopped
Dressing:
1/4 cup Pure Goodness Powdered Peanut Butter
1 tbsp maple syrup (or honey)
3 tbsp soy sauce
1 tbsp apple cider vinegar
1 tsp sesame oil
1 tbsp lime juice
1 tsp olive oil
Instructions:
Stir in the quinoa in boiling water and bring the mixture to a boil, then turn the heat down to low. Cover and simmer until all the quinoa is soft, about 15 minutes. Stir occasionally.
Put the cooked quinoa in a large bowl to cool down.
Combine the Pure Goodness Powdered Peanut Butter with other ingredients of the dressing into a medium bowl, mix it until smooth and creamy.
Mix the dressing with the quinoa, then add the bell pepper, cilantro and red onion. Top with green onion and roasted peanuts.
Notes:
This recipe makes 2 serving.
Nutrition Information
Serving size: 2
Amount Per Serving
Calories 350
Total Fat 14 g
Polyunsaturated Fats ( Omega 3+6) 3 g
Monounsaturated Fat ( Omega 9) 4 g
Total Carbohydrates 51 g
Fiber 6.5 g
Sugars 14 g
Protein 18.9 g
* Nutrition information is estimated based on the ingredients and cooking instructions as described in each recipe and is intended to be used for informational purposes only. Please note that nutrition details may vary based on methods of preparation, origin, and freshness of ingredients used