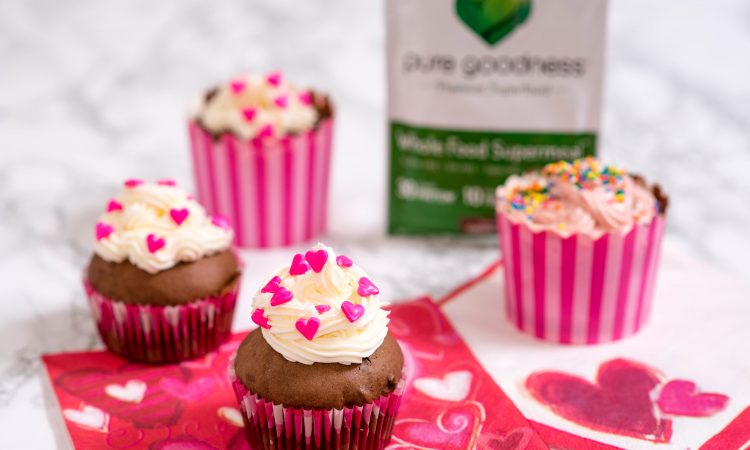 Valentine's Day Vegan Cupcakes
Ingredients:
1 1/2 cup all-purpose flour
1 cup brown sugar
3 tbsp (40g) Pure Goodness Whole Food Supermeal (Chocolate)
1/4 cup cocoa powder
1 tsp baking soda
1/2 tsp salt
1 cup almond milk
1/3 cup vegetable oil
1 tbsp apple cider vinegar
1 tsp vanilla extract
Vegan buttercream
1/2 cup vegan butter
2 cups powdered icing sugar
¼ tsp salt
1 tbsp strawberry jam, or drops of red food color, optional
Decoration
Heart-shaped candies
Tools:
Piping bag and tips, optional
Instructions:
1. Preheat oven to 350 ºF. Line a muffin pan with 6 baking cups.
2. For the cupcakes: Whisk together the flour, brown sugar, baking powder, cocoa powder, salt and Pure Goodness Whole Food Supermeal (Chocolate). Stir in the vanilla extract, almond milk, vegetable oil and apple cider vinegar gradually. Beat the mixture well with electric mixer.
3. Spoon the mixture into the prepared baking cups and fill each 2/3 of the way full.
4. Bake for 20-25 minutes. Insert a toothpick into the cakes, and they should be ready when the toothpick comes out clean.
5. For the buttercream: Be sure all of the ingredients are room temperature. Put the vegan butter, salt, and 1 cup powdered icing sugar in a bowl. Beat in low speed with electric mixer.
6. Add the remaining 1 cup powdered icing sugar, continue to beat until light and fluffy. Add the strawberry jam or red food color for a light pink color, add more icing sugar when it's too runny.
7. When the cupcakes are completely cool, put the buttercream frosting in the piping bag, and make frosting swirls with a piping tip on top of cupcakes.
8. Decorate with the heart-shaped candies. Enjoy them with your valentine!
Nutrition Information
Serving size: 1 medium cupcake
Amount Per Serving
Calories 400
Total Fat 29g
Polyunsaturated Fats ( Omega 3+6) 8g
Monounsaturated Fat ( Omega 9) 17g
Total Carbohydrates 36.8 g
Fiber 5 g
Sugars 9 g
Protein 11.7 g
* Nutrition information is estimated based on the ingredients and cooking instructions as described in each recipe and is intended to be used for informational purposes only. Please note that nutrition details may vary based on methods of preparation, origin, and freshness of ingredients used