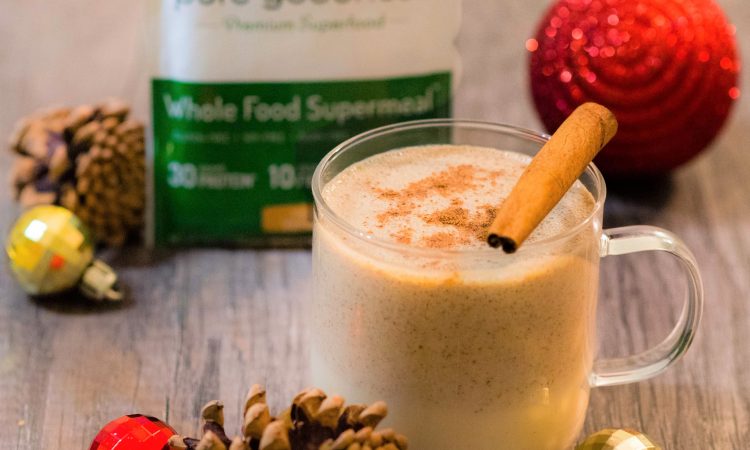 VEGAN EGGNOG
We are so close to Christmas and that's why we've brought you this delicious 100% Vegan Eggnog to start sipping while waiting for the holidays to roll in!
Ingredients:
1 1/2 cup almond milk
2 tbsp (40g) Pure Goodness Whole Food Supermeal (Vanilla)
1/4 cup cashews, soaked at least 4 hours or overnight
3-4 pitted dates, soaked at least 15 minutes
1/8 tsp salt
1/2 tsp vanilla extract
1/2 tsp ground cinnamon
1/4 tsp ground nutmeg
2 tbsp bourbon ( or rum), optional
Toppings:
Ground nutmeg, cinnamon sticks
Directions:
1. Drain and rinse the cashews and the dates.
2. Put all the ingredients in a high speed food processor and blend it until completely smooth.
3. Put in the fridge for 2 hours before serving.
4. Serve with ground nutmeg and cinnamon sticks.

Notes:
This recipe makes 2 servings.

* Nutrition information is estimated based on the ingredients and cooking instructions as described in each recipe and is intended to be used for informational purposes only. Please note that nutrition details may vary based on methods of preparation, origin, and freshness of ingredients used