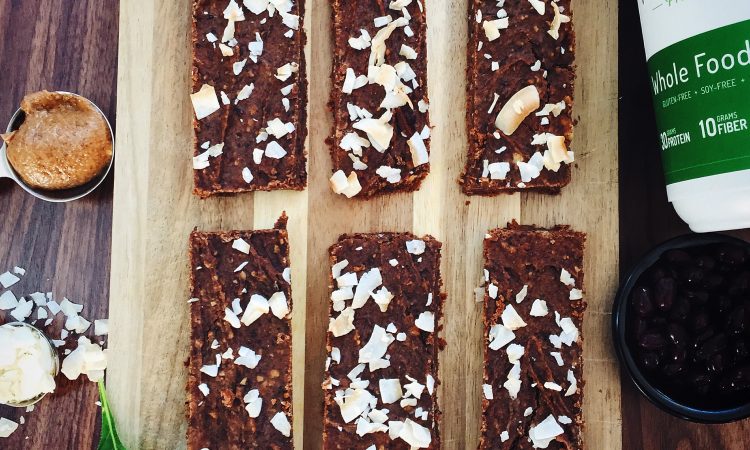 Whole Food Chocolate Vegan Protein Bars
Why not snack on these delicious Whole Food Vegan Protein Bars during the day.
Ingredients:
1 ½ cups freshly cooked black beans, or a 19oz. can of black beans, rinsed and completely drained
2 Tbsp natural almond butter (or any nut butter or seed butter)
2 Tbsp coconut oil
4 Tbsp cocoa powder
1 scoop Pure Goodness Whole Food Supermeal, Chocolate flavor
1 ½ cups pitted dates, soaked overnight and drained (reserve the soaking water)
¼ cup reserved date soaking water
1 Tbsp pure vanilla extract
½ tsp baking powder
A little less than ¼ tsp salt
Optional Add-Ins: cacao nibs, chocolate chips, chopped nuts, coconut shreds, etc.
Directions:
1. Preheat oven to 350 degrees and grease an 8×8 square baking pan.
2. In a powerful food processor, combine all ingredients (except for the add-ins) and blend until smooth. Stir in your add-ins.
3. Pour the mixture into the baking pan, using a spatula to spread the batter out evenly. If you want, you can sprinkle the top with more add-ins, to make the bars prettier.
4. Bake for 16 minutes, and allow the pan to cool on the counter.
5. Then refrigerate overnight so that it firms up.
6. The next day, cut into about 10 bars and wrap each bar individually in cling wrap. Store bars in the refrigerator.
Notes: Serves 8 Bars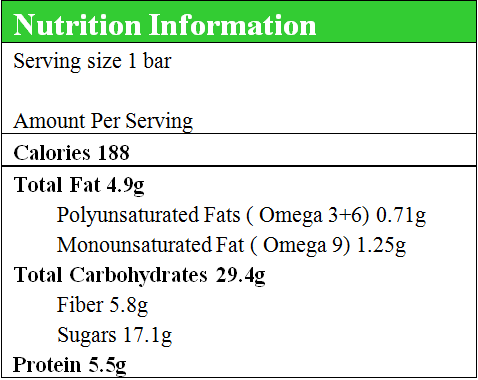 * Nutrition information is estimated based on the ingredients and cooking instructions as described in each recipe and is intended to be used for informational purposes only. Please note that nutrition details may vary based on methods of preparation, origin and freshness of ingredients used.