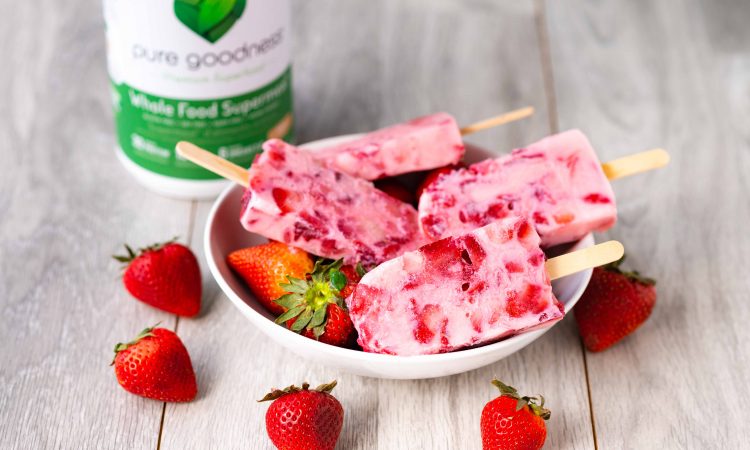 Canada Day Strawberry Popsicles
Happy #CanadaDay to all our Canadian followers! We have brought you the perfect recipe for the summer- Protein-Packed Strawberry Popsicles made using our Whole Food Supermeal!
Ingredients
2 cups Strawberries, sliced
1 tbsp (40g) Pure Goodness Whole Food Supermeal (Vanilla)
4 tbsp maple syrup
1/2 cup cold water
1 cup soy milk, sweetened
Popsicle Mold
Popsicle Sticks
Instructions
1.) Place 1 1/2 cup strawberries, maple syrup, and water into a saucepan.
2.) Bring to a boil, then reduce heat and simmer for 10 minutes.
3.) Pour into a blender and puree until smooth.
4.) Mix the strawberry puree with the Pure Goodness Whole Food Supermeal (Vanilla) and the soy milk. Stir well.
5.) When making popsicles, place half a cup of finely cut fresh strawberry into small pieces and place within popsicle mold. Pour strawberry soy milk into mould, and tap the mold to ensure that there is no air trapped in mold.
6.)Place a popsicle stick in each mold, and freeze until solid.
7.) When releasing popsicles from mold, release the popsicles from the mold by placing them in a container of warm water for 30 to 60 seconds until they release.
Notes
This recipe makes 4 popsicles.
Nutrition Information
Serving Size: 1
Amount
Calories 125
Total Fat 2.46 g
Polyunsaturated Fats ( Omega 3+6) 0.64 g
Monounsaturated Fat ( Omega 9) 0.27 g
Total Carbohydrates 20.5 g
Fiber 2.45 g
Sugars 13.85 g
Protein 6 g
* Nutrition information is estimated based on the ingredients and cooking instructions as described in each recipe and is intended to be used for informational purposes only. Please note that nutrition details may vary based on methods of preparation, origin, and freshness of ingredients used.