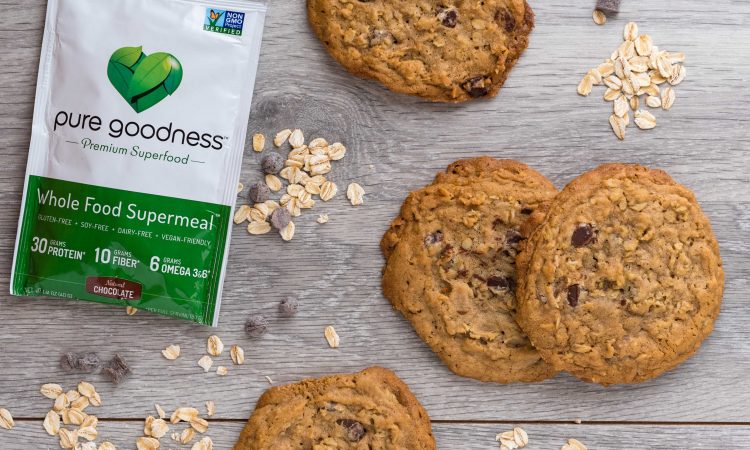 Oatmeal Chocolate Chip Cookies
Why not bake these extra nutritious Oatmeal Chocolate Chip Cookies for the Mom that always makes the best cookies and knows exactly when you need them! #mothersday2018
Ingredients:
1 cup all-purpose flour
1/4 cup Pure Goodness Whole Food Supermeal (Chocolate)
1/2 tsp baking soda
1 tsp ground cinnamon
1/4 tsp salt
1/2 cup brown sugar
1/2 cup coconut oil, melted
1/2 tsp vanilla extract
1 cup rolled oats
1/2 cup chocolate chips
1/4 cup almond milk
Instructions:
1.Preheat the oven to 350℉ and line 1 baking sheet with parchment paper.
2. Sift and mix the flour, baking soda, ground cinnamon, Pure Goodness Whole Food Supermeal (Chocolate) and salt well in a mixing bowl.
3. Beat coconut oil, brown sugar and vanilla extract in another bowl until light and fluffy.
4. Add the flour mixture to the oil mixture. When the dough forms, add in the almond milk and continue to beat.
3. Stir in oatmeal and chocolate chips.
4. Scoop cookies into balls onto the baking sheets, leaving about 2 inches between each one. Flat the cookie ball with a spoon.
5. Bake for 9-10 minutes or until the cookies turn golden on edges.
6. Remove from oven and let the cookies sit on the tray for 10 minutes.
7. Transfer the cookies to wire rack to cool.
Notes
This recipe makes 12-16 cookies.
Nutrition Information
Serving size: 1 cookie
Amount Per Serving
Calories 161
Total Fat 8.7 g
Polyunsaturated Fats ( Omega 3+6) 0.28 g
Monounsaturated Fat ( Omega 9) 0.35 g
Total Carbohydrates 13.1 g
Fiber 2.37 g
Sugars 6.94 g
Protein 6 g
* Nutrition information is estimated based on the ingredients and cooking instructions as described in each recipe and is intended to be used for informational purposes only. Please note that nutrition details may vary based on methods of preparation, origin, and freshness of ingredients used