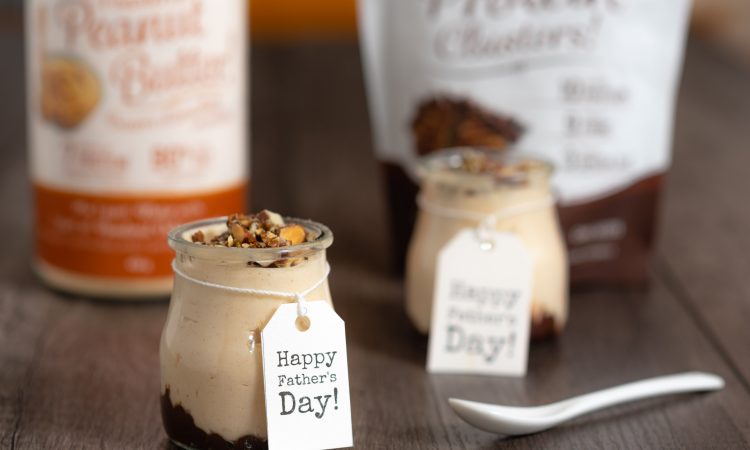 Peanut Butter Mousse
Happy Father's Day from all of us at Pure Goodness! We have brought you the perfect and healthy dessert to surprise your dad with! Check out the recipe of this incredible Peanut Butter Mousse made with our Powdered Peanut Butter and topped with our Protein Clusters!
Ingredients:
1 can coconut milk
4 tbsp Pure Goodness Powdered Peanut Butter
1tsp vanilla extract
3 tbsp maple syrup
½ cup chocolate chip
1 bar Pure Goodness Dark Chocolate and Sea Salt Protein Clusters, chopped
Instructions:
1. Put the coconut milk into the fridge, 8 hours or overnight.
2. Open the can of coconut milk, and do not shake it. Take out the hard coconut cream solid and put it into a mixing bowl.
3. Beat the coconut cream with an electronic beater in medium speed until stiff peak form. Add the Pure Goodness Powdered Peanut Butter, vanilla extract and maple syrup while beating.
4. Melt chocolate chips in the microwave, pour the melted chocolate into the glass.
5. Put the peanut butter mousse on the top of the chocolate.
6. Chill for several hours to let it set and firm up as a mousse.
7. Eat as a mousse topped with Pure Goodness Dark Chocolate and Sea Salt Protein Clusters.
Note:
For 2 servings
Nutrition Information
Serving Size: 1
Amount
Calories 536
Total Fat 15.5 g
Polyunsaturated Fats ( Omega 3+6) 1.12 g
Monounsaturated Fat ( Omega 9) 2.25 g
Total Carbohydrates 64.2 g
Fiber 6.25 g
Sugars 54 g
Protein 26.25 g
* Nutrition information is estimated based on the ingredients and cooking instructions as described in each recipe and is intended to be used for informational purposes only. Please note that nutrition details may vary based on methods of preparation, origin, and freshness of ingredients used.